Warehouse/Distribution Facility Renovation | Syracuse, NY
PROJECT INFORMATION
Design-CM
74,000 SF
TEAM
VIP Structures
IPD Engineering
VIP Architectural Associates
VIP's work with the Food Bank of CNY spans multiple projects and includes an initial transformation of a 48,568 SF warehouse to fit the Food Bank's business needs and a subsequent 34,000sf addition (currently in construction) focused on increasing storage, reducing waste, and increasing the capacity.
After purchasing a warehouse in 2009, The Food Bank worked with VIP to inspect the building, recommend repairs and renovations, and provide design, build and construction management services for the project. The renovation transformed the space and resulted in a new administration wing with offices, conference rooms, a commercial kitchen, a demonstration and training room, a fitness center, an elevator addition, and an architectural façade that improved aesthetics, insulating qualities, and access to natural light.
The scope also included many green aspects, such as a geothermal HVAC system, high-efficiency lighting, new insulated windows, and repairs and improvements to the building shell.
The Food Bank's new 34,000sf building addition that is currently under construction, will allow for more staff and volunteers, provides additional food storage, and increases programming capacity to accommodate dietary, cultural, and health-related nutritional needs. The expansion features new volunteer areas, loading docks, cooler storage, additional office spaces, and an enlarged staff break room and training rooms. Additionally, expanded conference rooms and a new truck entrance will create a safer environment for staff, volunteers, and visitors and allow the Food Bank to serve an additional one million pounds of food.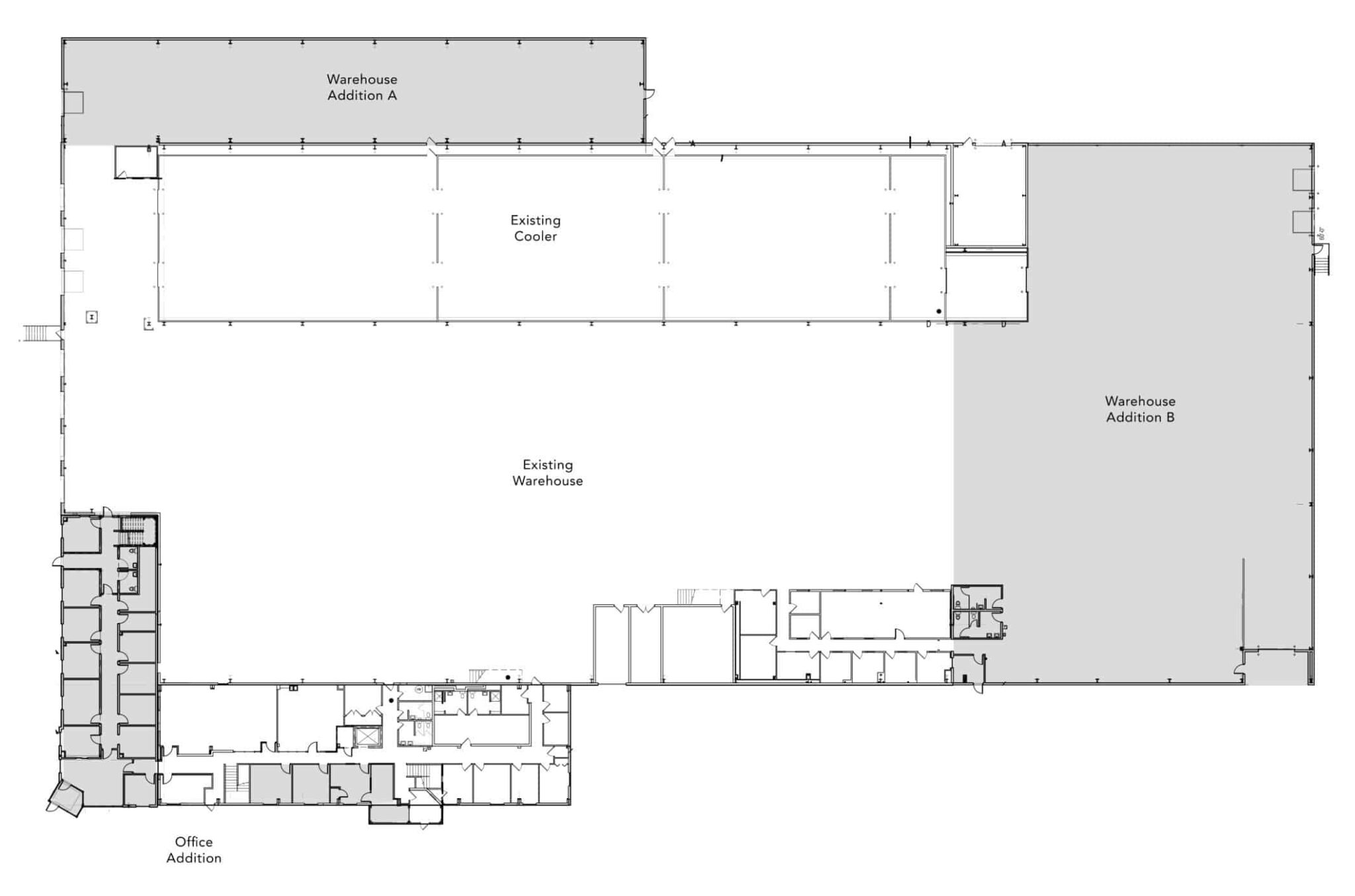 Floor plans of three 2023 expansions to warehouse and office spaces.