Project Details
---
Delivery Method: Design-Build-Develop
Owner: VIP Structures
Size: 150,000 SF
In 2008 VIP Structures was awarded the development opportunity to revitalize a vacant and unused piece of Syracuse's historic downtown. The Pike Block project is comprised of four adjacent downtown buildings: the Chamberlin, Witherill, Wilson and Bond Buildings, all originally constructed between 1855 and 1898. Located at the most important intersection in downtown Syracuse, the Pike Block is in the "Heart of Downtown." The 150,000 SF space is comprised of 68 residential units and 35,000 SF of retail space, including the new headquarters of the Syracuse chamber of commerce, CenterState CEO.
Located in two historic districts, the Armory Square and South Salina Street districts, an important objective was to historically rehabilitate the buildings to their original designs. A great deal of research was undertaken to understand the original façade makeup and important historic interior features. We worked closely with the NY State Historic Preservation office and the National Park Service to rehabilitate the building under the NPS Standard for Historic Preservation. Our design team also addressed the City of Syracuse's desire to connect our project on South Salina Street to another successful urban renovation area, Armory Square. This was accomplished by creating a pedestrian- friendly walkway which connects the two historic redevelopments.
We also wanted to create more than just another apartment complex by lending a sense of community to the project. A common-area kitchen, roof-top deck, seating area, tenant courtyard with barbeque grills and picnic tables, as well as a fully outfitted gym, were all part of creating this sense of community. All common spaces can be accessed by tenants 24-hours a day.
Another important objective of the Pike Block project was to reflect our sensitivity to sustainability and energy conservation. We incorporated many conservation features, including:
A storm water collection system to collect roof and courtyard rainwater
An open loop geothermal system to supply HVAC to the commercial tenants of the project; the system taps into the brine aquifer 85-feet below the City of Syracuse
A solar thermal system to supplement our hot water boiler system
Energy efficient appliances and lighting fixtures throughout the project
Low flow plumbing fixtures and dual flow water closets
Bicycle storage room
Low VOC emitting (volatile organic compound) materials throughout
A highly efficient Variable Refrigerant Volume central HVAC system for the apartments
Gallery
---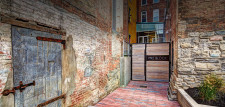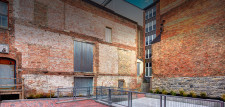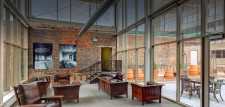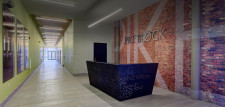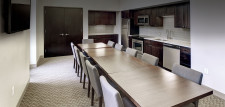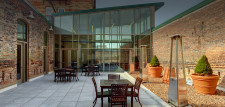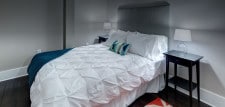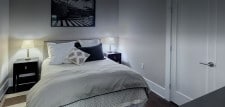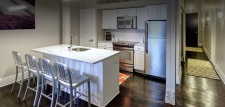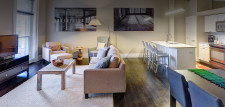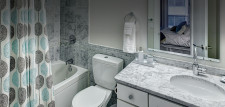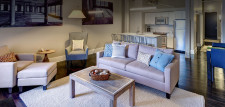 Project Recognition
---
Central New York Chapter of American Institute of Architects
VIP Structures' architecture group was selected as one of the 2014 American Institute of Architects Central New York Chapter Design Award Honorable Mention recipients, under the Adaptive Reuse/Historic Preservation category, for our Pike Block project.
AIA stated that our "innovative ideas, attention to detail, and dedication to the design profession have contributed to the architectural success of our region and beyond. This project is a good representation of the great design of Central New York Architectural firms and we are pleased to be able to recognize [VIP] with this award."
Preservation Association of Central New York
The Preservation Association of Central New York awarded the 2014 Paul Malo Award to VIP Structures, Center State CEO, Downtown Committee of Syracuse, Inc., and AdaptCNY, Inc. for the Pike Block project, "which successfully and sensitively juxtapose old and new construction, demonstrating respect for our past while building our community's future."
Downtown Committee of Syracuse
VIP Structures was awarded one of three 2014 Downtown Committee of Syracuse Urban Innovation Awards for our work on Pike Block. The award honors organizations that have made a positive impact on the downtown Syracuse environment.
NAIOP/Commercial Real Estate Development Association
The Upstate NY Chapter of NAIOP/Commercial Real Estate Development Association awarded VIP Structures the 2014 Adaptive ReUse/Historical Preservation Award of Excellence for their work on Pike Block, which honors the quality and innovation of commercial real estate projects from the Upstate NY area.
CNY Business Journal
The Central New York Business Journal recognized VIP Structures' Pike Block project with the 2014 "A Time to Build" Best Preservation/Renovation Project award for the More Than $10 Million project category.