Salt City Market Wins Design Award
The Salt City Market is an 84,000 square foot mixed-use, community centric facility located at the crossroads of Downtown Syracuse's business district and the City's south and west-side neighborhoods.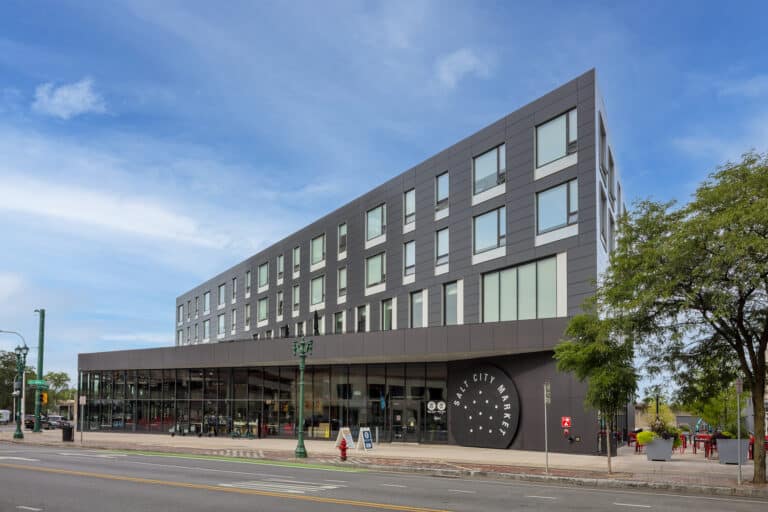 The building's ground level is a melting pot of Syracuse cultures and cuisine featuring a ten-vendor food hall, two anchor tenants, and a community room designed to bring together those from all walks of life. The three other floors include shared office and meeting space and 26 mixed income apartments. The dynamic interior is encapsulated by an extraordinary, angled façade that takes full advantage of the triangular site and connects the community on all four sides. Conceived by the Allyn Family Foundation and put into play by their newly formed non-profit, Syracuse Urban Partnership, the Salt City Market is a true champion of the Syracuse community marking the first ground up construction in Downtown Syracuse for over 40 years.
Congratulations to the Salt City Market project team!
Design Firm: VIP Architectural Associates Bob Garner, Kevin Lepak, Andrew Merriam
Façade Design: Snow Kreilich Architects
Food Hall Designers: ICRAVE Studios
Contractor/Construction Manager: VIP Structures, Inc.
MEP Engineering / Structural Engineering consultant: IPD Engineering
Site/Civil Engineering and Landscape Architect: Environmental Design & Research