VIP Structures went West - to SEMICON!
VIP's President of Construction, Christine Stevens, and Vice-President of Client Relations, Mike Durkin, joined the Onondaga County delegation at the SEMICON West Conference earlier this summer. With everyone in our region talking about Micron and chip fab, being at SEMICON West, meeting others in the industry, and learning about the global microelectronics industry was critical to understand what is soon coming our way.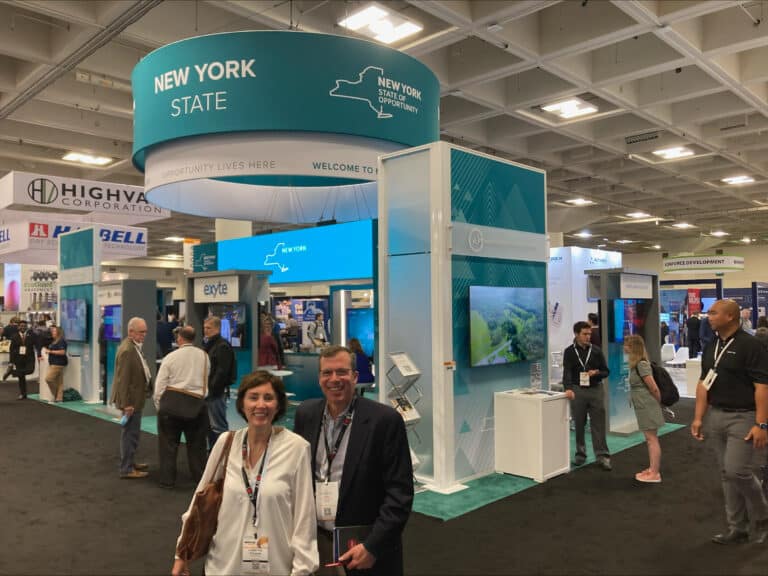 Christine and Mike at the New York State booth at SEMICON West.
Micron is real, they're coming to Onondaga County, and they are going to do great things in our Community.
VIP was honored and excited to lend its full support to Onondaga County, Central New York, and New York State in preparing for the flurry of activity surrounding Micron's semiconductor manufacturing plant in Clay. At the conference, we got to know Micron and the vast supply chain that supports them. We were also a part of the New York State SEMICON West conference booth, where we made connections essential to welcome and integrate the companies that will become part of the Micron ecosystem in Onondaga County and elsewhere in New York State.
We are all helping roll out the welcome mat to all the companies that will be a part of the Micron ecosystem.
The impact of Micron on Onondaga County and New York State will be mighty. At a private reception the night before the conference began, key individuals from New York State, Micron, and selected supply chain companies presented and reinforced their sense of unity and determination to collaborate in the months and years ahead. Micron is already making positive impacts in our community with a recent $500,000 donation to the local YMCA, plans to build a daycare to support Micron families, and investments in our next-generation through hosting chip camps with hands-on STEM and semiconductor-related activities for local middle and high school students in Central New York.
"We are so excited to have Micron in our community and we want to show them and everyone else in the ecosystem that there are people here that are ready and waiting to help them be successful."
-Christine Stevens, President of Construction
Thank you again to Onondaga County and others who included us in SEMICON West. We are grateful for the new connections we made and the time we spent strengthening friendships within the Onondaga County group. We are so excited about the future and to be a part of such a historic and innovative time for our area!
Designing and building from an owners perspective since 1975.
As a fully-integrated firm, our team of architects, engineers, and builders have been working together, perfecting our design-build craft, to deliver exceptional quality and craftsmanship to our clients.
Our designers, masons, carpenters, welders, and field crews take pride in their work and the legacy they leave behind.