We are so grateful for the opportunity to include two amazing murals in our new office at The Post. They both add such a unique and special aspect to our space! Learn more about the artists and their murals!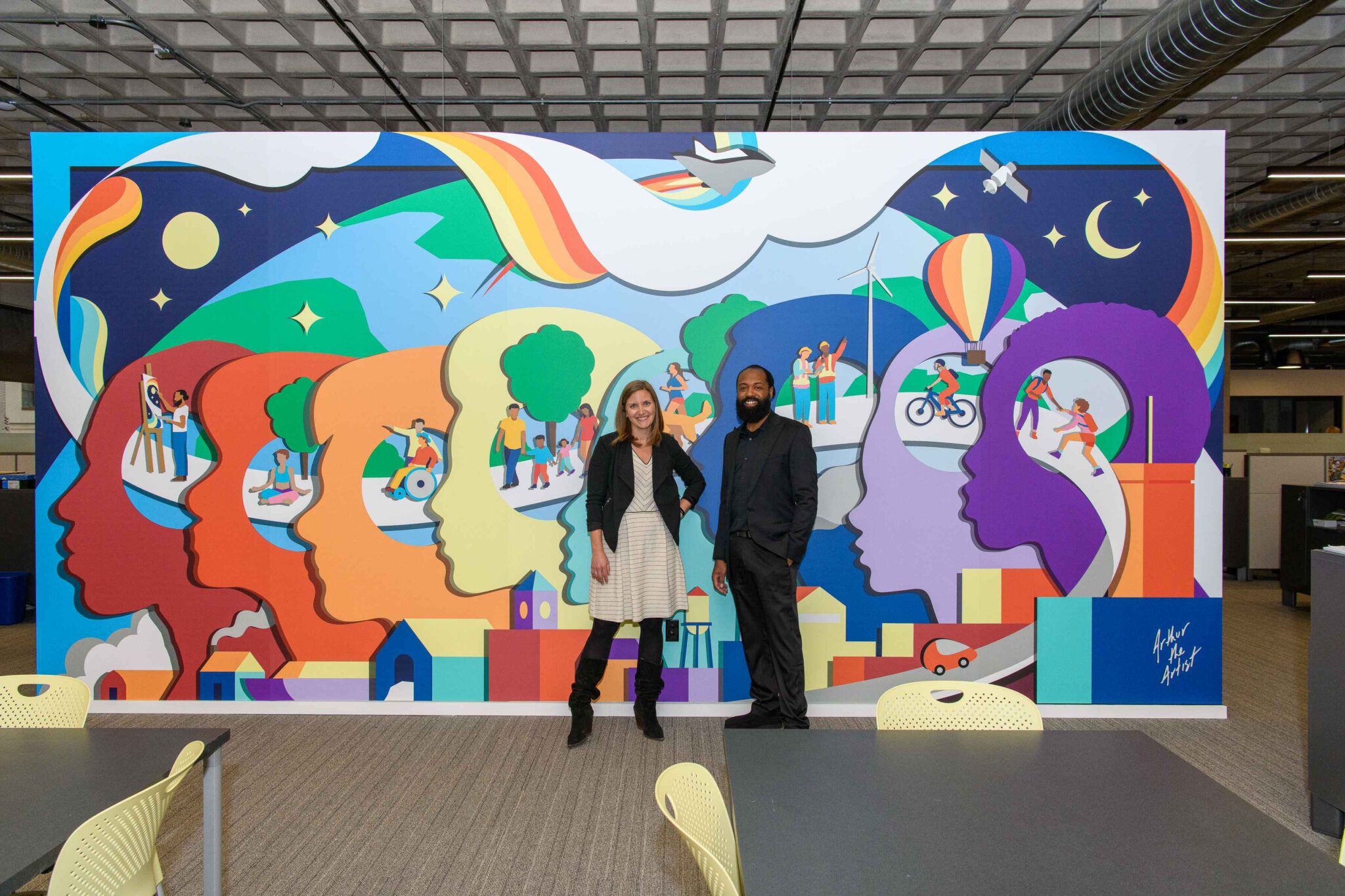 Arthur Hutchinson
Inner Worlds United: A Better Way Forward
Applied Vinyl Graphic (Installed by A&M Graphics)
"Within each person is a unique inner world full of possibilities and potential. While every inner world is different, we all want the same thing: a better life for ourselves and the people we care about. Today, more people are exploring their inner world, sharing their discoveries, and creating deep connections with others. As we begin to understand that this rich inner world is something we all share, our perspectives start expanding, allowing us to come together in more purposeful ways. More and more people want a better life not just for themselves, but for their communities, and the planet as a whole. We've inherited amazing technology from the past, but it threatens our well-being and the environment. Now we must embrace new values to overcome the challenges we face today and create a better future for everyone."
Jacqueline Colello
Carpe Diem
Spray Paint, Paint, Gold Leaf
"A better future is yours to build." These are the words of Jackie Colello, who built a better world for herself through positive changes in her life, and by extension, also builds a better world for those around her through her art. After a car accident caused Jackie to hit rock bottom, she found sobriety and a higher calling. She uses both to create works of art that speak to the beauty in human nature and femininity.


Jackie was born in Oklahoma but moved to Syracuse when she was three. Crafty and creative by nature, she thrives off the energy that art creates in its viewers. She loves that art attracts all walks of life; it can create and strengthen connections by the emotional reaction it produces in its viewers and bring people together who may not otherwise have much in common. Creating works of art brings new joy that didn't exist before. This mural, "Carpe Diem," embodies the idea that the world is our future and we can build it for the better. No one has to stay stuck where they are – they can make moves, do better, be better, and build a better future for themselves and for everyone around them.